With a collection of 13 championship titles and numerous NBA records between them, Scottie Pippen and Robert Horry are indisputable American basketball legends.
Pippen and Horry have shared a few things in common over the course of their respective careers—flourishing under the leadership of Phil Jackson being a notable one. This week, they will officially share yet another common bond: Both men are featured players in the much anticipated NBA 2K12 video game, slated for an October 4th release.
I sat down with each of them at the NBA 2K12 promotional launch party in NYC last week to get the lowdown on the game and their respective involvement in it. Never one to miss a solid opportunity to unearth more scintillating subject matter, however, I also asked both men about the lockout. Bringing up LeBron James didn't hurt, either.
Regarding the lockout, Robert Horry got right to the point:
"It's just a bad, bad thing," he stated. "I don't feel for the players, I don't feel for the owners. Those are seven-figure people. I feel for the people who work in the arenas, who use this as their livelihood to put food on their tables. That's who I care most about and that's what I said during the last lockout. 
Horry's sentiment is right on target. According to Simply Hired, the average salary for an arena worker is just $48,000 per year. 
Horry made a point of reiterating that the arena workers and others whose livelihoods are tied to the fate of the NBA season are the ones who end up suffering. He insisted that a decision needs to be reached quickly, "so that those people won't be walking around without jobs."
With the U.S. unemployment rate hovering just beneath double digits, holding steady at 9.10%, Horry's concern appears warranted.
When asked to compare this lockout with his personal experience during the 1998-99 lockout, Horry said he believes they are similar situations with one very major difference: The option to play overseas is now a viable one. He noted that in '99, players were scared to go overseas; the high salaries didn't yet exist, and there was far less security involved in such a move. "Now, basketball is loved worldwide…guys are playing overseas making a lot of money," he said. "The game is at an all-time high."
Ironically, Horry's comments were made just a day prior to the breaking news that Kobe Bryant may be signing with Italian league Virtus Bologna for a whopping payout of about $3M over 10 games. That deal is currently on hold. 
As for unity on the part of the players, Horry believes they are very unified. He recalled his experience during the last lockout, watching Michael Jordan appear at meetings to declare his support for the players and his concern for the future of NBA basketball, despite being retired.
 "Now that [Jordan] is on the other side [as an owner], it'll be interesting to see how he feels," Horry said. He noted that he believes Jordan would still align with the players more than align with the owners. According to Horry: "Once a player, always a player."
Scottie Pippen declined to discuss anything related to the current lockout, but he did have an entirely different take than Horry on his personal experience during the lockout of '99. "For me, it was great," Pippen said. "I needed the time off. I'd had a couple of herniated disks so I really needed that break to allow myself to heal."
Pippen acknowledged that the lockout was generally a tough situation: "I really welcomed the last lockout, but I'm probably one of the few people that did."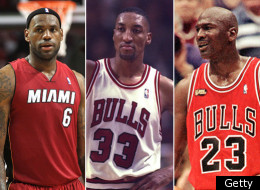 Not willing to let Scottie Pippen off the hook so easily, I reached for the next best thing: Could he kindly clarify his position on the controversial statement he made (and subsequently, amended on Twitter) about LeBron James potentially surpassing Michael Jordan as the greatest player the game has ever seen?
"My position is still the same," Pippen stated. "You're talking about a very young kid who came to the game at a very young age. Statistically, he will probably be the best player at the end of the day…based on the number of years he can get in, [he's a] super athlete, very versatile in a lot of ways."
Pippen added, "My comment was not meant to belittle the greatest player in the game—he has truly made his mark with his style, with his charisma, with his brand—but from a statistical standpoint, I think [LeBron] has great [potential] to be recognized as the best."
As for Robert Horry, when asked what he thought about LeBron's notorious proclamation that he'll amass more than 7 championship titles, Horry squinted at me and exclaimed, "Who?!"
Point taken.
Kidding aside, Horry said, "You gotta aim high…I hope that he does surprise us, that'd mean he did his thing like he was supposed to." Horry smiled: "But it ain't gonna happen."
At the end of the day, if there's one fact that these two legends might agree on, it could be this: The longer this lockout ensues, the more luster the NBA will continue to lose, and the less shots (pun intended) players like LeBron James will have at eclipsing anyone's legacy.